Beer in Late Bronze Spain (circa 1100 BC)
In Spain, José Luís Maya excavated sites of recent bronze in the Catalan country at the end of the second millennium BC. Jorge Tresseras, a specialist in food archaeology, has shown that a wheat + barley beer, sweetened with honey and flavoured[1].
Identified herbs are artemisia, thyme, sage, mint and rosemary. These results are based on the chemical tracers that survived in the jar residues. The stratigraphy of the site and the C14 dating leave no doubt as to the chronology.
Large jars of Genó which contained grain and beer (Juan-Tresseras 1998) .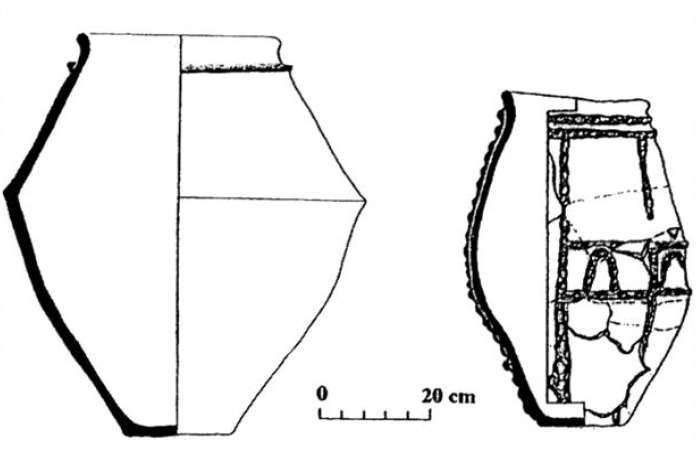 Recent analyses of beer residues found in Bell Beaker vessels in their late Iberian regional version (Copper age at Ciempozuelos) reinforce these working hypotheses[2].
Drinking cups of Ciempozuelos are hemispherical bowls or pot-bellied bowls found next to goblets (Delibes 1977, 89).
---
[1] Juan-Tresserras 1998, La cerveza prehistorica : Investigaciones arqueobotanicas y expérimentales, dans Maya, Cuesta & Lopez Cachero eds., Geno, un poblado del Bronce Final en el Bajo Segre (Lleida), Publicacions Universitat de Barcelona.
[2] Rojo-Guerra, Garrido-Pena et als 2006, Beer and Bell Beakers: Drinking Rituals in Copper Age Inner Iberia, Proceedings of the Prehistoric Society 72 : 243-265.
06/09/2018 Christian Berger