Southeast Asia
Condominas Georges 1996, Alimentation et cuisine mnong gar (Vietnam central). In Cuisines, Reflets des Sociétés, Marie Claire Bataille-Benguigui & Françoise Cousin, 274:281.

Some lines on rnööm rice beer for ritual use. Condominas 1982 is much more comprehensive on that subject.

Condominas Georges 1982, Nous avons mangé la forêt (Hii saa Brii Mau-Yaang Gôo), chronique de Sar Luk, village mnong gar (tribu proto-indochinoise des hauts-plateaux du Vietnam central), réd. Flammarion.

The ethnologist stayed among the Mnong gar in 1948.

Cuisinier Jeanne 1946, Les Mu'ò'ong. Géographie humaine et Sociologie. Travaux et Memoires de l'Institut d'Ethnologie XLV, Paris.

The Mountain people of Vietnam. Completed by Condominas (1982).

Janowski Monica 2011, Rice Beer and Social Cohesion in the Kelabit Highlands, Sarawak. In Liquid Bread. Beer and Brewing in Cross-Cultural Perspective ed. by Wulf Schiefenhövel & Hellen Macbeth, 183:195.

Borak is a traditional rice beer of Kelabit people in Sarawak, Malaysia, was gradually abandoned in favor of tea and industrial fermented beverages. The social cohesion has changed, as well as the reciprocal bonds and the mental universe of Kelabit peoples.

Le Roux Pierre 2000, Bières traditionelles d'Asie du Sud-Est. In Ferments en folie, Fondation Alimentarium N° 29 Nestlé, 51:62.

A great overview that cover Vietnam (rice beers of Rhades, Jorai or Sre peoples), Cambodia (rice beer of Brou peoples), Borneo (Kantu), Taiwan (Puyuma), and the Philippines (Tagalog). These traditional agrarian societies brew their rice beers after harvest. When the granaries are full, a collective social time opens in order to honor their ancestors, to thank local deities for the grains abundance, and to seal new social alliances. Then, the rice beer becomes the main beverage fueling the feasts.

Lisdiyanti Puspita, Kozaki Michio 1977, Rice Wine in Southeast Asia Countries : Thailand, Laos, Vietnam and Myanmar. In Symposium on Indigineous Fermented Foods, Bangkok, Thailand, I-3.
Matras-Troubetskoy J. 1978, L'ordinaire et la fête: la cuisine chez les Brou (Cambodge – Province de Ratanakiri), ASEMI IX(3-4), 111:140.
Click an area for other regional bibliographies.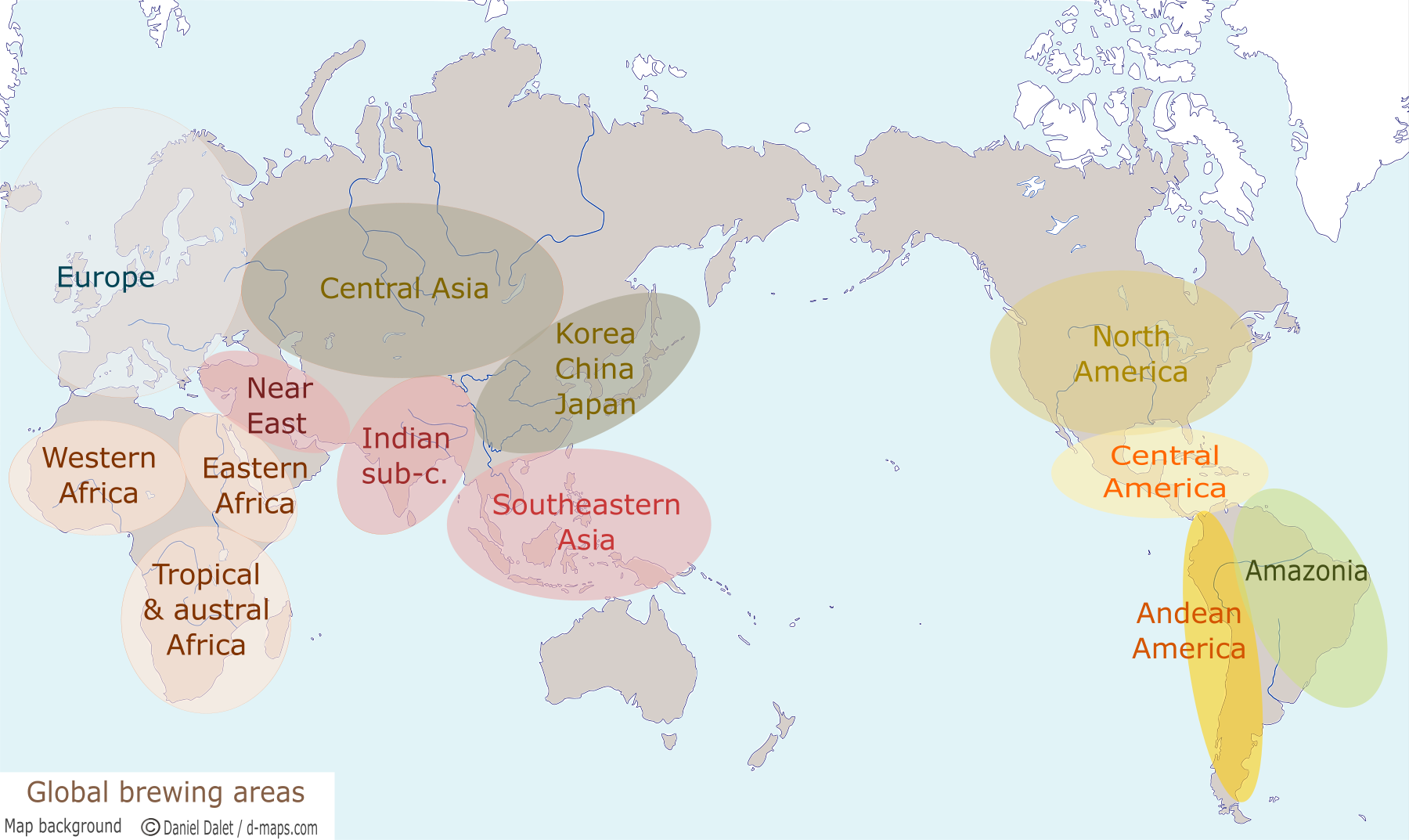 22/05/2020 Christian Berger